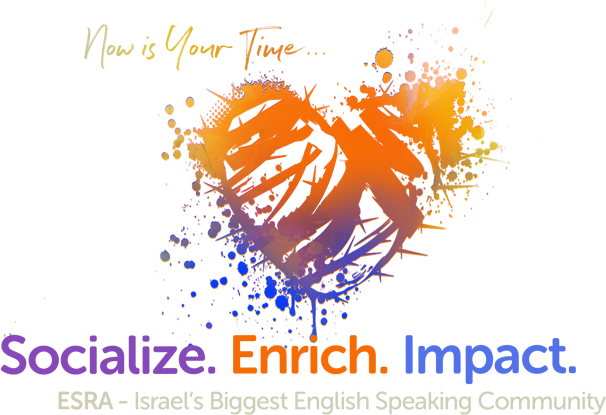 Zoom in on ESRA 40+ friends
Blue Suede Jews: Jews in the Golden Age of Rock 'n' Roll
with Dr. Laurence Jacobs
25/35 NIS via Zoom

Wednesday 16 June | 20:00
Israelis and Jews
with Haim Rettig Gur
25/35 NIS via Zoom

Wednesday 23 June | 19:30
A Baritone Recital Featuring Internationally Renowned Colin Schachat Accompanied by the Raanana Symphonette
35/45 NIS via Zoom

Sunday 27 June | 20:00
Juvenile Delinquency
with Col. (Ret.) Nathan Paz
25/35 NIS via Zoom

Monday 16 August | 20:00
Zoom in on ESRA 40+ friends
Blue Suede Jews: Jews in the Golden Age of Rock 'n' Roll
with Dr. Laurence Jacobs
25/35 NIS via Zoom

Wednesday 16 June | 20:00
Israelis and Jews
with Haim Rettig Gur
25/35 NIS via Zoom

Wednesday 23 June | 19:30
A Baritone Recital Featuring Internationally Renowned Colin Schachat Accompanied by the Raanana Symphonette
35/45 NIS via Zoom

Sunday 27 June | 20:00
Juvenile Delinquency
with Col. (Ret.) Nathan Paz
25/35 NIS via Zoom

Monday 16 August | 20:00
"ESRA makes a huge difference not only in general terms, for the greater good, but also specifically, in its positive impact on the lives of individual volunteers, so that one can wholeheartedly concur with the opinion of most volunteers that, more than to give, to volunteer means to receive".
Contact us to find a volunteering opportunity with minimum input and maximum impact.
Personal Support


ESRA Befrienders
Volunteers provide a listening ear and support for those who need a friend.
ESRA Befrienders
Provides financial first aid for people in crisis (according to fund criteria)
send us an email


ESRA Professional Counselling
Individual subsidized meetings for those dealing with trauma and life's challenges. Phone meetings available. Supervised by Prof Clare Rubin.